Dear SuN friends,

Don't miss out the event of the week:
the Webit international tech and digital policy festival is coming back to Sofia on June 25-27!
This year Webit will gather policy makers, global innovation leaders ranging from Fortune 500 top executives to the world's most impactful and promising founders and entrepreneurs and academia to re:Invent Europe's Future.
WEBIT.FESTIVAL Europe is also part of the EU Digital & Innovation Week - one of the most influential digital economy, tech, policy & startup events for Europe in 2018. The EU Digital and Innovation Week is the flagship event of the Bulgarian Presidency of the Council of the European Union in the digital domain aiming at setting a trajectory of growth of Europe empowered by the innovation through legislation and focus on the digital economy and society. The "EU Digital and Innovations Week" shall welcome 7000+ attendees from 100+ countries: 1500 top policy makers from all around the world, 6000 of world's enterprise leaders, 200 of Europe's most promising startups.
This year's programme of WEBIT will include a rich variety of events, panels and summits, divided into four main categories:
Enterprise/startup events
Policy events
Startup events
Special events.
You can see the full agenda for all of the three days here. You can find a detailed map of the venue here.
We would like to share some highlights of the of the rich programme of Webit related to entrepreneurship with you, and we recommend that you don't miss them!
***
1. Founders Games
26-27.06, Tuesday and Wednesday
Founders Games is the startup competition in the program of Webit.Festival Europe. During the event the organizers will provide a free grant for startups to get a free expo table, free festival tickets and opportunity to meet unparalleled selection top enterprise leaders from all around the world + investors, and also an opportunity to WIN €200 000 seed investment. You can learn more about the Founders Games here and about its programme here and here. The Investors Summit and StartUp Academy are also a part of our Startup events. They are attended by a number of leaders from the corporate world, covering series of topics about innovation through collaboration with the startup ecosystem.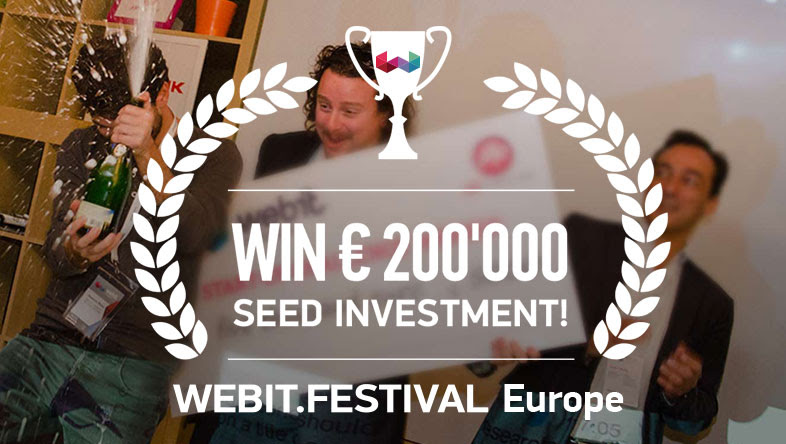 2. Webit Investors Summit
27.06, Wednesday
The Investors Summit brings together top global investors and enterprise leaders from Europe and other parts of the world to facilitate and secure foreign direct investment and provide insights on opportunities and market trends in CEE and the globe. The event is part of Webit Foundation's commitment to developing the startup ecosystem in Bulgaria and the region and make the connection between established corporations and emerging industry disruptors. You can learn more about the event here and about its programme here.
3. Sofia's Place
26-27.06, Tuesday and Wednesday
With the mission to fulfill the potential of our city to the full extent, Sofia Municipality, Sofia Investment Agency, Sofia Development Association and Sofia Tourism Administration invite entrepreneurs, politicians, city administrators and business representatives to visit SOFIA's PLACE tent at Webit.Festival Europe 2018. You can see the programme of Sofia's Place here.
Here are some highlights and opportunities from their programme for startups, businesses and entrepreneurs
1. Business Meet Up with Vienna Business Agency, Austria (June 26th @ 12.15 pm)
Vienna Business Agency, part of the city of Vienna provides a business welcome programme and support for companies to establish a presence in Vienna.
This meet up might be of interest to companies from all sectors with interest in Vienna and Austria as a market and as a potential office location.
2. Business Meet Up with Business Region Göteborg - ICT, Sweden (June 27th @10 am)
Business Region Göteborg is responsible for business development in the second biggest city in Sweden and represents thirteen municipalities in the region of Göteborg.
This meet up might be of interest to companies interested in the Nordics and working in the ICT sector, AR/VR, Logistics & Transportation, Security, BigData, AI, Machine Learning, EdTech, IoT and much more...
Learn about Mobility Xlab – a co-working place for corporate-startup cooperation within Connected Car, CyberSecurity, AD & AI.

Excellent opportunity for startups & scaleups to interact with Volvo, Volvo Cars, Ericsson, Zenuity etc.
3. Learn about the 'Financing Innovative Startups' programme of the Municipal Fund for SME-s and meet start-ups in the fields of tech and smart city solutions.
Stay tuned for more interesting opportunities every week!
Yours,
the SuN team
05.06.2018